If you want to learn the art of creating a profitable online business while creating more time to live the lifestyle you desire, then this hands on workshop is for you.
I'm Natalie Sisson, Suitcase Entrepreneur, Business Design Coach, Blogger, Podcaster, Speaker and No #1 Bestselling Author of The Suitcase Entrepreneur.
The entire focus of my work is to ensure you create freedom in business and adventure in life by investing in yourself today to begin realizing the potential that you know you're capable of achieving on your own terms and by tapping into the new way of working through online tools, social media and outsourcing.
Over the last 3.5 years I've built my six-figure business from my laptop while traveling the world and throughout it all I've created my own Six-Step System to teach my clients how to achieve this too.
I've found the fastest way to actually achieving massive results and building a profitable online business you love, along with a lifestyle you're proud of is to learn and emulate those already doing it.
I have developed the BYOB Build Your Online Business workshop to allow you to receive the maximum amount of knowledge, strategies and step-by-step methods in one full day so that you can apply them straight away to accelerate your progress and build your ideal business.
The BYOB Workshop was just what I needed and has been key in my progress in starting my business! From gaining my true vision for my business to narrowing down my niche and building a lucrative sales funnel, your workshop had all the right tools to get me started on the road to success. I am now in the works on making the major changes you suggested, and I'm excited about my progress and increasing my reach to my ideal customer using your tips!

I have to say the most important part of the workshop for me was narrowing my niche after being so resistant for fear of missing out. But, applying what I've learned with being selective in my target market has made all the difference. Marketing is easier and cheaper! I no longer feel like I'm trying to find the "right" client, so that headache is gone. Before, I attempted to attract "all women" that wanted to start their own business (I guess like you with WomanzWorld=), and can now fully appreciate your "Am I Your Customer" guide. It's help me to see what you mean when you say, "not having a clearly defined and targeted niche costs you serious time and money." And, just by narrowing my niche and being specific in my offerings, my email list has increased from the 15-20 or so on my list (half friends/family) to about 90 to date within this last month after the Workshop. So excited!!

I just reread your Sales Funnel and Am I Your Customer Guide! Great stuff!

~ Marsha Battee, www.thebossynurse.com
If you are new to business or just thinking about starting a business, then Natalie's events and products are a must! I attended her one day BYOB workshop in Dallas and was amazed at how much we covered in one day! Natalie provides actionable advice that will help you find the right clients, get the right funnel set up and achieve your goals – plus so much more! Best part? Unlike other business teachers, Natalie makes it fun and enjoyable to learn! Start your business on the right foot with Natalie!

~ Andrea Travillian, Finance Speaker, www.takeasmartstep.com
I feel very passionate about creating my online business, but as a full-time mum, not having enough time to work on my project has been a real challenge. With Natalie's guidance and invaluable step-by-step recommendations during the BYOB workshop I now feel unstoppable and have made amazing progress since attending.

While the challenges and the time constraints are still there, now I have the tools and online resources to be more productive and efficient with my time and money. Natalie is able to offer her know-how to me at any stage on my entrepreneurial journey, as her lifestyle has made her a very resourceful and ingenious lady, with very practical solutions to any online business problem.

~ Daniela Platt, International Education Advisor, UK
Natalie Sisson's BYOB workshop was just what I needed to get out of my mess. I had been stuck. I wanted to move forward with my business but the path to do that seemed so entangled with different steps I couldn't work out how to progress. Now, the path seems so clear and the steps all doable. In the BYOB workshop I got the foundation steps essential to ensuring my online biz is successful as well as tips and techniques for increasing profit, streamlining the business and outsourcing so that I can concentrate on what I do best. For someone just starting out, this workshop will give you the roadmap for your journey. For those with a business this workshop will spotlight the steps you need to take to grow. I feel like I can now take off in leaps and bounds. Thanks heaps Natalie.

~Amanda O'Brien, Designer, Osaka Japan
The knowledge gained from Natalie's workshop is simply invaluable. The insights shared through the sessions have provided me with clarity and very practical steps on how I will proceed to achieve my dream to become an online entrepreneur.

If you are like me, you think you have a great idea and have been scratching your head on where to start. You have probably searched online and found a ton of blogs, articles and how to's on how of being an entrepreneur – amongst it some very wonderful content, some less helpful, but mostly it's all very confusing to piece together.

Where this workshops shines is that Natalie has refined and structured her knowledge in such a way that it cuts through the noise, get's to salient points and gives unambiguous, practical direction. Not to mention the value of meeting and hearing from other like-minded budding entrepreneurs and those already in business also attending.

If you want to start a business or are seeking to improve your online presence, I can't recommend this workshop to you enough.

~ Daniel DaVinci, Tokyo
Thank you for an excellent workshop. Much of it was new to me, but it was presented and explained in such a logical, passionate and manageable way. I have always loved learning about new ideas and new ways of doing things and that was certainly what your BYOB workshop was all about.

You have a lovely energetic presence, no sharp edges to your generous and positive personality and you show and give bucket-loads of warmth and kindness. So I am left with lots to think about, lots more to learn and master and lots of possibilities to explore and apply. And what a great, diverse and interesting group of people attended. I was so impressed with every single one of them. So thank you for an engaging and stimulating day!

~ Bob Boyd, Consultant, Australia
In 2014 I'm taking that a step further by creating the BYOB Build Your Online Business Workshop and taking this on the road with me on a World Tour, so I can teach you how to do this LIVE and in person!
What is the BYOB Build Your Online Business Workshop?
Based off my No #1 Amazon Bestseller The Suitcase Entrepreneur, and my popular BYOB Series of guides, this is a practical, hands-on full day workshop designed to get you results.
In my Six Step System workshop you will learn how to:
Define and attract your ideal customer and charge what you're worth
Build your brand through social media, blogging and your website
Streamline your business to create more effective systems that work
Tap into the power of outsourcing to free up your valuable time
Create a lucrative sales funnel that generates consistent leads and sales
Craft all of this new found knowledge into your 1 Page Business Plan to ensure you have a plan of action to achieve success.
1 Implement Your Vision + 1 Page Profit Plan
Before the workshop begins you'll be sent my 1 Page Business Plan template to start to fill out, so that when you show up on the day, you will have a head start on what areas you need and want to focus on.
In this session I will help you discover your powerful vision for the type of business you'd like to build and why you're doing this in the first place – to create an amazing lifestyle you love.
We'll cover how to go about crafting your ideal day and the steps you can take to complete your Painted Picture – the most powerful tool for actually making your vision and three year plan come true. We will also cover how to craft this vision into your powerful 1 Page Business Plan which is your path to profit and continuing success in 2014.
You will learn how to:
Determine your business vision that will keep you focused on what counts and why you're doing what you're doing!
Solidify your key goals and objectives to make that vision a reality
Identify the key revenue streams you can, and are building, to serve your ideal customers and create a profitable business
2 Target and Attract Your Ideal Customer
Understanding your niche and your ideal customer are quite possibly the most critical aspects of building a successful business.
Yet so few entrepreneurs, even those with established businesses, can actually answer why they do what they do and exactly who they're serving. Get this part right and you're going to have a wildly successful business, working with people you love and who value you what you do and are customers for life.
You'll learn how to:
Identify your real niche and dominate it.
Know who your ideal customer is and how to attract them
Stop underpricing yourself and make more money
3 Build Your Powerful Brand
Standing out from the crowd is hugely important and you do that by building your personal and business brand and credibility through focusing on what you do best – your unique strengths and skills that only you can offer.
Once you back that up with a strategic content marketing plan and a solid social media strategy you'll be able to attract your ideal customers and become the go-to person in your niche, like never before.
You will learn how to:
Build a website that sells and that you're proud of
Start a blog that matters and positions you as the leader in your market
Use social media to build influence and generate leads and new clients
Manage your time online to make the most of your efforts
4 Build a Lucrative Sales Funnel
A sales and marketing funnel ensures that visitors go into your website and money comes out. If you don't have on you are quite literally leaving money on the table.
It's the one skill that virtually every successful marketer has mastered to seamlessly earn hundreds of thousands of dollars, and it's the key method to turning all your hard work of attracting clients and traffic into customers and raving fans.
In this part of the workshop I'll introduce you to how you can start and optimize your own.
You'll learn:
Timeless marketing principles that work in any industry
How to drive qualified traffic to your website and capture those leads
How to convert those leads into clients and sales consistently
5 Streamline Your Business and Create Effortless Systems
In addition to creating a seamless sales funnel, we also want to focus on how you can look at your overall strategy to streamline your business. This means making you more productive and taking away the unnecessary business processes you might be using to save you more time and money.
You will learn:
The key tools you will need to run your online business
Time saving systems that will work for you
Productivity hacks to squeeze more out of every day
6 Outsource Work to Free up Your Precious Time
There's just no reason why you should be doing EVERYTHING yourself. In fact if you really want to build a profitable business and your ideal lifestyle, you'll need to delegate and outsource and build your virtual team. Luckily there's never been a better time to start.
You'll learn how to:
Use outsourcing to delegate work and free up more time to focus on your priorities (and what you love doing).
What to actually outsource and how to get started hiring and training
How to build your own virtual team
Plus you'll receive these bonuses (total value of $150)
I'm big on you taking action and following up from any training and coaching sessions with me. So, after completing this workshop you will receive the following goodies to remain on track and continue to learn:
Your own digital copy of The Suitcase Entrepreneur book ($9)
BYOB Am I Your Customer ($37)
BYOB Build Your Online Business ($47)
BYOB Proven 8 Step Method To Building a Lucrative Sales Funnel ($57)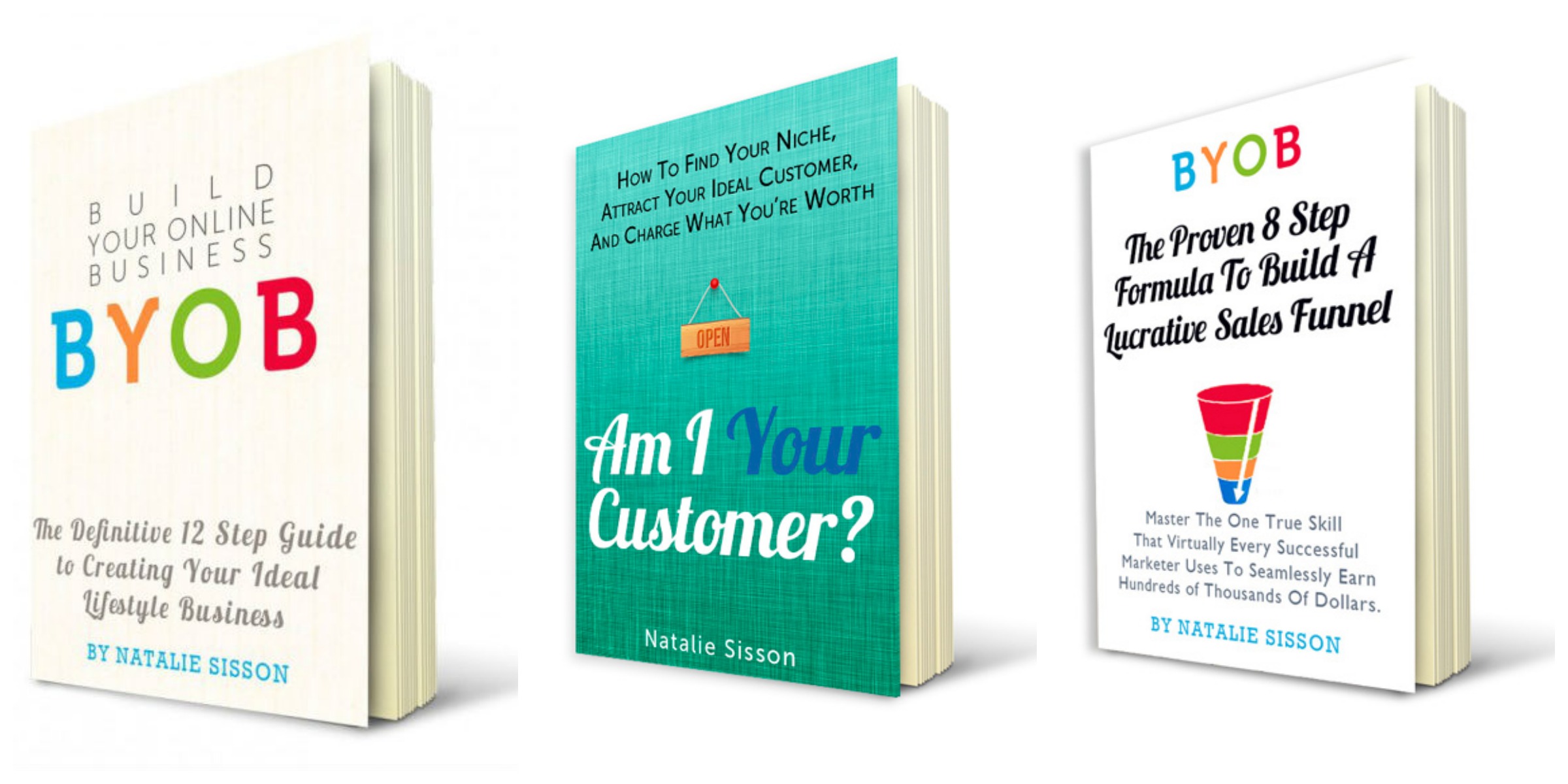 I wanted to learn about building a business online and how the principles could be applied to my coaching business. Your workshop helped me to get greater clarity on all areas of my business. It also gave me tools that I can go away and use and test if they are applicable for me, which is a bonus.

My epiphany? I had all these questions and challenges and I didn't know where to find the answers or if there were possible solutions. Natalie cut through the nonsense and gave me realistic, practical tools and advice.

I have lots to do, but that is a good thing! Thank you.

~ Beverley Bramwell, Change Catalyst, UK
Before I attended your workshop my challenge was turning my passion for art into a viable business and not really knowing where to start!

I'd like to sell my work on line as opposed to the regular way of through a third party of galleries & shops and so I knew this was something you could help me with.

There was lots of information to digest and now I have lots of options to consider and investigate. Many thanks Natalie for a very informative workshop.

~ Ruby Oakley, Artist, New Zealand
Who should attend?
Ideally you are an entrepreneur or freelancer (man or woman) with an existing business or customer base. You are looking to take make more money from your current efforts, create the right business model and systems to achieve consistent, recurring revenue, create a powerful online brand presence and reclaim your time to spend on living life on your own terms.
However if you're wanting to transition out of your corporate job, or have a clear idea on what type of business you want to start, and some online experience this workshop will be held at a suitable level for you.
I intend to work on some advanced strategies for those who need it and ensure the foundations and fundamentals are understood by everyone.
What can you expect?
You will be prepared to turn up and commit to applying what you learn to your current situation to come away with a real plan of attack that will make you money, free up more time, and leave you fulfilled and brimming with energy.
Spaces are limited to a maximum of 10 wonderful people per workshop to ensure I can answer all your questions and work with you hands on. Part coaching, part mastermind, you can expect great discussions, and new friends by the end of the workshop too.
How will the workshop roll?
I like to keep momentum and add a ton of value to all my work so we will aim to cover the 6 most important steps to building a profitable online business over the whole day.
You need to bring your energy, questions and laptop
In addition to all you will learn and apply, you'll also get coffee and tea, a great venue in a central location and access to Internet.
Plus a full day with me, Natalie Sisson and guaranteed learning and fun.
Thanks again for a great workshop and full on day. A huge thank you for sharing all your books and information. These are very valuable resources!

Before attending my main challenge was creating systems. However, I have discovered another challenge while talking to you… having the courage to be PISTACHIO rather than vanilla.!

I chose to come to the workshop to maximize the results of my already existing business, to learn how to create systems, to get new ideas and tips on how to run an online business and to network.

The results I got was the realisation that I AM ENOUGH. I have an new gratitude journaling process plus I'm in the process of doing an office space makeover so there's far less paper and more online systems. It was a real treat to meet you.

~ Svetlana Griffen, Independent Lingerie stylist, NZ
The BYOB workshop is an inspiring day that I would thoroughly recommend to any micropreneur looking to maximise their online presence. Natalie is not only passionate about her business, but a gifted and generous teacher who readily shares all of the resources and skills essential to establishing and running a successful online venture. Natalie's approach is accessible and, above all, encouraging – you will come away empowered to take the steps that will make your business and lifestyle aspirations a reality. The other highlight of the workshop is simply being in the same room as other like-minded business owners – after connecting with a group of talented people who all shared similar challenges and aspirations, I came away with new motivation to take my business to the next level.

~ Meaghan Newson, Glyph Communications, Australia
Dates and Locations in 2014
Check back here often to see when registrations open and workshops are confirmed!
January 31st  – Melbourne, Australia – SOLD OUT
February 20th – Auckland, New Zealand – SOLD OUT
April 10th –  Tokyo, Japan – COMPLETED
May 3rd – Kyoto, Japan –  COMPLETED
May 21st – London, England – COMPLETED
July 25th – Vancouver, Canada – COMPLETED
August 15th – Dallas, TX, USA – COMPLETED
Having had a successful bricks and mortar business and being semi forced into moving my business to an online model due to moving location, I realised that I really didn't know where to begin, and so for several months I procrastinated.   I had some great systems in place and a fully automated online fitness programme but I didn't know what to do next. Natalie's BYOB Proven 8 Step Method to Build a Lucrative Sales Funnel has been a gem.

After completing the exercises contained within it I now feel so much more informed about what the heck I need to do to be successful online.   And what I loved most about it, is that I could implement the strategies right away as I completed each section.

The outcome has resulted in me writing a new e-book for my opt in, recording an audio for it and redesigning my opt in box on my website, figuring out my analytics (gold) and updating my auto responder sequence. I can already see the conversion improvements.

I feel like I am a million times clearer about what my purpose is and who I want to attract as my ideal client.   If you need to give your business a good health checkup then I highly recommend that you buy this guide.

~ Sally Feinerman
Before Natalie's workshop I had no clear sales and marketing strategy, as I have been getting my clients thorough word of mouth.

I wanted to understand the most effective tools for sales and marketing online and as a result of what I learned during the BYOB, I've now got a plan for enhancing my website for how to convert more leads into sales and also how to better market myself.

I'm still working on other takeaways from this excellent day. Thank you

~ Masako Nemoto, Founder of You At Your Best, Tokyo
I had an enlightening and inspiring time with Natalie at the Build Your Online Business Workshop.  It was a great day and far too short!  The information Natalie presented was very accessible and I came away with some clear ideas about how to take my business plan forwards.  Following the workshop Natalie has kept in touch with me, sending more documents and tools to help with the development of my ideas.  I've been so impressed with Natalie's approach to creating freedom in business and adventure in life that I'm considering having some coaching from her to help me take things to the next level.  Thank you Natalie!

~ Georgina Crossman GK Crossman Consultancy, UK
I would like to say thank you for a brilliant course. I really feel like I have some new tools to tackle the day. I have also come away from the day with a way better understanding of social media.

As a further observation from someone who has spent thousands of hours teaching in the classroom. You are a really good teacher, you voice is very clear and you speak well. I look forward to using all the information.

~ Patrick Dowling, Founder Techtorium, NZ